Counting
Scales
---
---



The Setra Weighing Systems Division has grown to become one of the top counting scale suppliers in the U.S. Their high resolution counting scales are used to count parts ranging from semiconductor chips; injection molded parts; fasteners; diodes and other electronic components to coins, fish, and seeds. Setra provides scales - - often equipped with bar coding or other accessories - - to companies like Motorola, AT&T, Kodak, Milton Bradley, General Electric and top electronic component, instrument, aerospace and computer manufacturers.
"We chose Setra scales because of their accuracy, weighing capacity,
and ease of use."
-Injection Molding Manager at Milton Bradley, Inc. [read all about it here]

Product Line:
A superior counting scale, the Super II combines incredible accuracy with easy-to-read text prompts enhanced by a backlit display. It's internal database, bar code label making, set points and multiple base connectivity make it truly flexible. Input to the database can be entered on most computer keyboards or from the user friendly, cell phone style keypad.

The scale menu provides easy access to a wide selection of features easy to navigate and exit. Use it to build a log of daily transactions, customize display prompts, or set the optimal sample size for counting. Multiple ports keep you constantly connected ...to a scanner, to a printer, to a computer, or to your bulk weighing scale (up to eight bases). Super II is unquestionably the superior choice in counting scales for all your kitting and inventory needs. [Setra Super II brochure]
Features:
Options & Accessories:
Internal transaction log
Backlit Display
Internal database
Portable Operation with internal battery
Multiple Base Connectivity
Remote scale platform
Connects to QWERTY keyboard
Standard computer keyboard
Prompting Macros
English and Bar coded labels
Graphic LCD
Label Printer
3 Communication Ports
Scanner, Linear Imager Smart Gun
Overload protection stops
Remote Scale Option for Non-Setra Platform
Height adjustable legs with spirit level
Scriptcoder - Label Printing Program
High resolution ceramic load sensor
SuperTalk - Scale Setup, Macro & Data File Transfer Storage Kit
Price: $ 2,290.00* (includes backlit display - recommended*)
All other options and accessories additional.
*deduct $ 100.00 if backlit display is not required.



---
Did you know Algen Scale maintains a large inventory of counting scales for short and long term rental and lease.
Call us today for a price quote: 1-800-836-8445.
---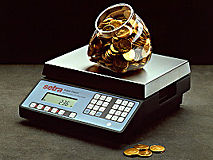 The Super Count couples the benefits of Setra's high resolution ceramic sensor with an ergonomically designed full-function keyboard to deliver a high accuracy, versatile counting scale at a surprisingly moderate price.

The patented variable capacitance weighing technology lets the scale display weight changes as minute as 1 part in 125,000. The internal resolution, which is four to ten times greater than the display readability, allows operators to work with smaller sample sizes thereby saving time and reducing hand counting errors.
Features:
Versatile full-function keyboard allows keyboard entry of the average piece weight (APW), tare weight, and ID. Other functions such as weight/count accumulation, selectable update speed, and multiple units of measure add to the flexibility of the scale.
Internal database allows storage of APWs and tare weights or the accumulated count for 256 part numbers. Simply key-in the part number and the Super Count immediately recalls the APW/tare weight or accumulated count and is ready to use.
Accuracy monitor enables the supervisor to select special settings that check the sampling process and, if necessary, cause the scale to prompt the operator if the number of pieces used in the sample is too small, or if the sample weight is insufficient.
Programmable RS-232 output with ScriptCoder\99 allows up to 10 custom label designs to be printed to a dot matrix printer or, for bar codes, a thermal label printer. Label formatting may be programmed directly through the keyboard without a PC.

Super Count\99 - Additional Specifications <click here>

Price: $ 2095.00 (options and accessories additional)
---
The Quick Count\99 - The Quick Count incorporates high resolution weighing and counting accuracy into an easy to use, six key format providing the features needed for most counting applications
Price: $ 1745.00
More Information


---
Easy Count\99 EZ6 - The combination of high accuracy, ease of use and low price make the EZ6 counting scale an exceptional value.
Price: $ 1045.00
More Information
Easy Count\99 EZ2 - The combination of high accuracy, ease of use and low price make the EZ2 counting scale an exceptional value.
Price: $ 945.00
More Information


---
Options and Accessories to Setra Counting Scales
---

Auto Count\99 200

Auto Count\99 200 - This accessory for counting scales virtually eliminates repetitive sampling through the use of bar codes generated on inexpensive printers. Now available for download is the popular "Save and Restore" utility for backing up Auto Count settings.
More Information

[ Discontinued ]


Requires Adobe Acrobat Reader - Free Download Here

---
SETRA Dymo 300 Printer - Functional, low cost direct thermal printer for basic printing of paper or label receipts and/or bar coded information. For use with all Setra scales and balances.

More Information <price>
---
Setra 450 Direct Thermal Barcode Label Printer - High performance, direct thermal barcode lable printer. Features a positive-locking, self-aligning printhead mechanism that is perfect for printing shipping labels, inventory labels, etc. Will accommodate roll-form media up to 5 inches in diameter and 1 inch to 4.5 inches wide. Includes 4 mb flash memory; 32-bit microprocessor, media sensor. Label design and programming may be additional. More information
Setra 450


<price>
---

ZEBRA TLP-2844
<price>

ZEBRA TLP-2844 Barcode Label Printer - Full features in a small, economical package. Ideal for small to medium volume. Holds approx. 300 labels per roll.* May be used with thermal or thermal transfer labels (wax ribbon required for thermal transfer). Available in two widths: 3" and 4". Label lengths vary based on your requirements. For use with all Setra scales and balances.
*Quantity of labels/roll will vary depending on length of each label.
---
Setra's ScriptCoder Label Program Software & Cable Kit allows custom labels to be designed through scripts that format text and data sent from a Setra Super Count\99 or Quick Count\99 scale. A script is a single print command that tells the scale to implement a sequence of steps. It can be written to print text and data in English on a serial dot matrix printer, or in bar code format on a thermal bar code printer. The script is stored in the scale and executed each time the specific label design or data is requested. The Super Count scale can store up to ten different scripts, while the Quick Count is limited to one.
The ScriptCoder Label Program Software and Cable Kit includes the ScriptCoder PC 3-1/2" disk, a scanning chart, instructions, and cables. The scale may be connected to an optional "intelligent" bar code decoder wand and a variety of popular serial printers. Unlimited bar code formats may be created by combining the ScriptCoder PC software with a label design package for thermal printers. This package is available from most printer manufacturers. For more information and a free demonstration of the Super Count, Quick Count, and ScriptCoder contact your local authorized Setra distributor or the factory. <price>
---
Super II to PC Communications Software
Setra Systems, Inc. introduces a new software product that is designed to facilitate the use of Setra\92s popular Super II counting and weighing scale. Available on CD ROM, the SuperTalk program provides several very useful functions.
SuperTalk enables a nearly effortless transfer of data files and transaction records resident in the Super II scale to a PC where they are stored in a format that is easily imported into popular spreadsheets and database applications.
It also enables a nearly effortless transfer to a PC of macros that may have been written and stored in a Super II scale. Once stored in the PC, they can be easily transferred to other Super II scales so that the macro can be duplicated in any number of scales, providing identical scale operation at every workstation.
The program also allows the transfer and storage of Super II scale setups such as the print formats that may have been entered for a particular model printer, sample size and accuracy setups for sampling parts when counting, set points for activating alarms, special weighing units such as ounces, grains, kilograms etc. Any and all scale setups can, when using SuperTalk, be permanently stored in your PC, providing a backup if the setups in your scale are lost or inadvertently changed, and simplifying scale programming if new scales that must operate in exactly the same manner are later added to your packaging line. SuperTalk can also be used for editing setup information. For example, a macro developed for one workstation and one operator can be modified in SuperTalk to suit the needs of a similar application elsewhere that uses a different Super II scale.
SuperTalk files can be imported into other database applications and spreadsheets. In Microsoft\99 Excel, for example, simply open the Transaction Log files using the File, Open, \91All Files\92 commands and the Excel Text Wizard will walk you through a fast and easy sequence that will place your file in the spreadsheet, just the way you want it. Additionally, existing Excel files that were not generated in a scale can also be exported and saved as SuperTalk files and downloaded into any number of Super II scales.
SuperTalk and its operating instructions are available on CD ROM. The kit includes a cable and connector that makes it easy to hook up your scale to your PC, and can be purchased from Algen Scale Corp. Call today: 631-342-1975 or Toll-Free at 1-800-836-8445.
more information Requires Adobe Acrobat Reader - Free Download Here
<price>
---
Auto Count\99 200

[ Discontinued ]

$ 590.00

Battery
$ 50.00
Battery Assembly and Circuit Board
$ 150.00
Time/Date Option
$ 56.00
Display Protective Shield
$ 5.00
Remote Scale Option (for SuperCount)
$ 250.00
Setra 300 DYMO Labelwriter Printer
$ 495.00
Setra 450 Direct Thermal Label Printer
$ 595.00
Eltron/Zebra Thermal Transfer Label Printer
$ 695.00
Label Stock

call 1-800-836-8445

SuperTalk - includes software disc and interconnecting cable
$ 125.00
Scriptcoder - Label Printing Program Diskette & Cable Kit
$ 195.00
ScriptCoder Basic Label Design (Optional)
$ 350.00
Scanner, Smart Wand
$ 399.00
Scanner, Linear Imager Smart Gun
$ 495.00
Custom Computer Keyboard for SuperCount
$ 495.00
Standard Computer Keyboard (PS/2) for Super II
$ 25.00
---
Need help in finding the right scale for your business?
Contact us at Algen Scale, we'll be glad to help.
---
More Counting Scales
---
JCS-A Series Counting Scale

Click on photo for larger view.
Simple to use and to service.
Economically priced.
Features:
30,000 divisions; Class III accuracy.
Counting function.
Weighs in grams only.
Built-in rechargeable battery or external AC power supply/charger.
Backlight included for dimly lit environments.
Low power consumption design.
Platform size: approx. 9" x 14"
Price: $ 495.00
Specifications:
| | | |
| --- | --- | --- |
| MODEL | CAPACITY (KG) | RESOLUTION (G) |
| JCS-3A | 3 | 0.1 |
| JCS-6A | 6 | 0.2 |
| JCS-15A | 15 | 0.5 |
| JCS-30A | 30 | 1 |
---
SC-Series Counting Scale
5 Digit Unit Weight for Precision Counting
1000 Item Memory with Tare Accumulation


Features:

High Internal Resolution(1/100,000)
Easy to Read VF Displays
Stainless Steel Platter
Auto Span Adjustment
Auto Zero Tracking
| | |
| --- | --- |
| Optional: | |
| RS-232C Interface | |
Specifications:
| | | | |
| --- | --- | --- | --- |
| MODEL | SC-05P | SC-10P | SC-25P |
| Weighing Capacity | 10 x 0.002lb (5 kg x 1g) | 25 x 0.005lb (10 kg x 2g) | 50 x 0.01lb (25 kg x 5g) |
| | |
| --- | --- |
| Internal Resolution | 1 / 100,000 |
| Display Digit | Weight / Count / Unit weight ( 5 / 5 / 5 ) |
| Display Designators | ZERO, TARE, g, lb, Lacked Sample, Lacked Unit Weight |
| Power Source | AC 120V, 60Hz |
| Power Consumption | Approx. 7W |
| Operating Temperature | -10\A1\C9 ~ +4\A1\C9 (14\A2\B5 ~ 104\A2\B5) |
| Platter (inch / mm) | 14.6(W) x 10.9(D) / 372(W) x 278(D) |
| Dimensions (inch / mm) | 15.3(W) x 14.3(D) x 6.4(H) / 388(W) x 364(D) x 163(H) |
| Product Weight | 15.8 lb / 7.2 kg |
| Price | $ 695.00 |
Dimensional Diagram: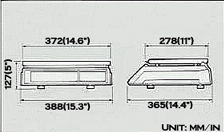 ---
---

Weighing/Counting Platform Scale

Rugged, mild steel construction with stainless steel top plate available in your choice of two sizes: 13" x 17.7" or 16.5" x 20.5"
Three window LCD for simultaneous display of information.
Tilt bracket rotates display up and down.
Reads in decimal pounds, piece count, and weight per 1000 pieces.
Checkweighing function with programmable audible and visual setpoints when target weight or count is reached.
Internal rechargeable battery pack.
Height adjustable legs.
Streamlined, unitized design.
In use splash cover included.
Choice of six ( 6 ) capacities from 60 lb to 600 lb
(see specifications)

Nice Price:
$ 695.00 ....... 13" x 17.7" platform
$ 895.00 ....... 16.5" x 20.5" platform

Requires Adobe Acrobat Reader - Free Download Here
---
Reel Counters
Rentals
Used & Discontinued
Need Help in finding the right scale for you? Contact us, we'll be glad to help you.

Algen Scale Corp.
Tel: 631-342-1975 Toll-Free: 1-800-836-8445
Email: info@algen.com
About Algen Catalog Contact Us Order
Rentals Search Software
---
Copyright 2000 - 2013 Algen Scale Corp. 01.16.2013